Commercial Dishwasher Repair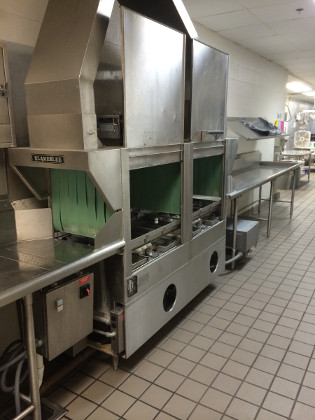 You can't turn tables without a commercial dishwasher that's operating efficiently. As satisfied customers are walking out, hungry customers are arriving, and a stacked pile of dirty dishes is not helpling you feed your patrons.
The commercial dishwasher is a key component to any professional kitchen, and it should be able to clean a pile of dishes effectively in just minutes. If this appliance is not heating up to the appropriate temperature, or is leaving food particles behind, it may be time for a maintenance call. There are mechnical parts that may be wearing out inside, causing your unit to perform inefficiently.
If the dishes are still wet after running a cycle, you may have a faulty heating element, which is cause to call a restaurant equipment repair technician.
Sometimes food particles remain after washing, so you may need a new filter unless you can simply clean the filter.
If your dishwasher is not draining properly, you may have a clog in the filter, or a kink in the hose.
Dishwasher Repair for Nashville Restaurants
With over 20 years servicing restaurants in and around Nashville, no problem is too big or small for us to solve. Performance Service & Electrical, LLC understands the importance of each of your commercial kitchen's appliances, and we are dedicated to providing quick and affordable Commercial Dishwasher Repairs the moment you need them.
If you are looking for a Nashville equipment repair service, please call us today at 615-319-0511 or complete our online request form.