Commercial Microwave Oven Repair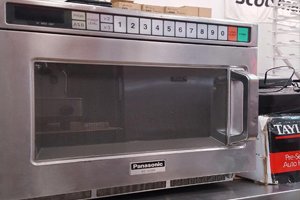 Today's commercial microwave ovens are sophisticated electrical appliances, outfitted with digital controls that can take a beating in the humid envionrment of a busy commercial kitchen. Even the professional chef uses a commercial microwave for certain applications, so when your microwave is on the fritz, it can put a damper in your kitchen's routine. When you are faced with a commercial microwave repair, we can level with you on whether it makes sense to repair or replace a part, or cut the losses and invest in a whole new appliance.
Performance Service & Electrical, LLC guarantees the highest quality restaurant equipment repair services in and around Nashville. No matter the problem, we can get your kitchen up and running by providing you with the level of quality work you deserve.
Repair Services for Commercial Microwaves
For over 20 years we have repaired all kinds of restaurant equipment, and commercial microwaves are some of the most common appliance repairs we see. Sometimes the control panel malfunctions and needs to be replaced, or the magnetron is faulty which can lead to a more serious repair. Below are some examples of simple fixes we've seen that do not require a professional repair at all:
If your turntable stops spinning, food may not heat evenly or all the way through. One of the most common reasons that a turntable stops rotating is simply because it's not lined up correctly, or it's off track. Try adjusting this yourself, otherwise you may need to call us for a minor repair to the motor.
Noticing arcs or sparking? It's commonly known that you should never put metal in the microwave oven, but keep in mind this includes the most seemingly innocuous forms of metal, such as the twist-ties or certain plates. If you're still experiencing arcs or sparks and know there are know forms of metal in the microwave, you should definitely contact us for a repair.
Make sure that your microwave is always cleaned thoroughly. This can make a huge difference on performance.
Commercial Microwave Oven Repair Experts
Performance Service & Electrical, LLC specializes in providing fast, reliable service to restaurant owners and commercial kitchens. If you suspect that your commercial microwave oven is in need of a repair, please contact us today and we'll be happy to get everything back in working order.
If you are looking for a Nashville commercial microwave oven repair service, please call us today at 615-319-0511 or complete our online request form.