Steam Tables Repair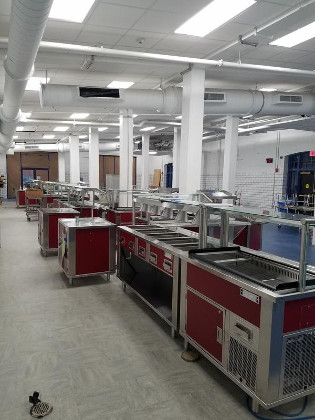 A steam table performs the same essential job that a heat lamp does by keeping prepared foods warmed for your patrons. However, instead of heating from directly above, a steam table heats from under and the sides by relying on the heat from steam to warm without over cooking food. It is a delicate balance and if anything is amiss with the system, you are likely to end up with temperature problems.
As a restaurant owner, you know that any element on the Hot Side of your commercial kitchen needs to be working correctly. If you need your steam tables repaired beacuse it's not holding the proper temperature, Performance Service & Electrical, LLC holds over 20 years of experience with restaurant equipment repair services.
Whether you use your steam table in the kitchen or have it accessible to diners for buffet style dining, we understand how important it is to keep it running efficiently, as it is the last step in protecting the quality of your food for your customers.
Steam Table Repair for Commercial Kitchens & Restaurants
There is a variety of steam table options available, so some of your repair needs may depend on the type of equipment that you have. However, here are some commonly occurring problems that you could have with any type of steam table:
Maintaining the right temperature is the key to an efficient steam table; failure here can end up being a big problem for your restaurant. If your steam table is having trouble with this, call us so we can resolve this immediately. When food isn'y kept at the proper temperature it puts your customers at risk and your restaurant's reputation in jeopardy.
If you have heating elements that burn out on a regular basis, you should investigate, as this is often the result of the water wells not staying filled during operation. It is important to regularly keep these filled to avoid continual replacement of the heating elements.
Local Commercial Steam Table Repair Experts
With Performance Service & Electrical, LLC, you know you are hiring skilled and seasoned experts who have specialized in appliance repairs for your industry. We know the business and most importantly, we care about our customers who rely on us for service.
If you are looking for a Nashville commercial steam table repair service, please call us today at 615-319-0511 or complete our online request form.