Creating the Perfect Outdoor Kitchen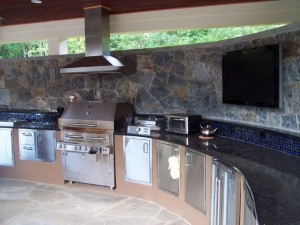 As we head closer and closer to the official beginning of summer, we find more and more reasons to justify beefing up our backyard entertaining ability with the installation of a convenient and impressive outdoor kitchen. And why not? Adding an outdoor kitchen is a wonderful way to add to the functionality - and property value - of your home. Talk about super perks! But just what types of appliances do you want to consider including in your outdoor kitchen configuration? A great grill is the first appliance most people consider in their outdoor kitchen. But if you're after a more fully functional space, you will want a range of other outdoor appliances as well.
Oven
Choose from a gas or electric oven, pizza oven or warming drawer. These are available from a range of manufacturers in built-in or countertop versions. Or look for a wood-fired pizza oven, which is usually a custom-built feature, but do-it-yourself kits are available.
Side Burner
Perhaps the most useful of all extra appliances, a separate side burner allows you to heat sauces or boil water while you're grilling. Most experts suggest opting for a separate burner, either built-in or plug-in, instead of one integrated into a grill, as the burners built into the grill aren't always powerful enough to be effective, and they can be too close to the grill to allow the use of a full-sized pot. For a more versatile solution, consider a plug-in induction burner that you can use indoors or out.
Vent Hood
If your cooking space is close to the house or under an enclosure you may need a range hood to remove smoke and cooking odors from the space. Some come equipped with halogen lighting.
Dishwasher
Yes, you can even install a dishwasher outdoors! It's a great idea if you dislike hauling dirty dishes inside and have a place to store clean ones outside.
Wine Coolers
Many homeowners choose to include a wine cooler in their outdoor kitchen. It's handy for drinks, but also for keeping condiments close to their point of use. Ice makers are also popular choices.
Outdoor Sinks
An outdoor sink is a big convenience for washing dishes or even just rinsing hands while you cook. It can really add to the resale value of your outdoor kitchen. If you decide to include this feature, you'll have to decide how to feed the faucet. Running a water line from the house is one option. In cold climates this line will have to be insulated and buried below the frost level. Others use a garden hose that they can disconnect in the winter. Or install a line with an indoor valve so you can drain it before the weather dips below freezing. Drainage is another consideration. You may be able to tap into your home's main drainage system, or create a gray-water reservoir. Each municipality has different regulations, so check with your local authorities and work with a licensed plumber.
For more information about creating your dream outdoor kitchen, call our trained specialists at Performance Service & Electrical at 615-319-0511. Our Nashville Appliance Repair Company will be happy to help you choose and design a stunning outdoor kitchen that will bring you many years of enjoyment. Don't forget - Performance Service & Electrical also offers outstanding maintenance and repair service for all your commercial grade appliance repair needs!
If you are looking for a Nashville Appliance Repair Company then please call 615-319-0511 or complete our online request form.