Top Seven Commercial Restaurant Kitchen Appliances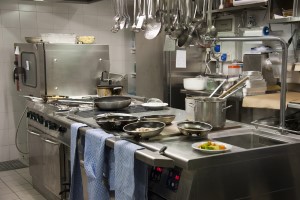 Starting a new restaurant is an exciting venture. What better way to express your personal style than with dazzling dishes sure to astound your local culinary community. It's exciting to even think about. If you are about to take the leap with a restaurant of your own, it's important to invest well in the basic items that will get the most use. After all, with all the hard work you'll put into making sure everything's perfect, you certainly don't want your signature dishes to fall flat due to poor quality or faulty equipment!
Here are a few pieces of restaurant equipment that are basic necessities. While not every restaurant may need each piece on this list, it is a good place to begin researching options.
1. Commercial Ice Makers
Probably the most universal piece of restaurant equipment - at least in the US, it's hard to find an eating establishment without at least one of these. No ice? You may as well close your doors, especially during the hot summer months. You will need ice for food preparation, food storage and for serving your customers. Whether you are operating a full service restaurant or looking to open a fast food type establishment the commercial ice machine is a key piece in your restaurant equipment line-up.
2. Stainless Steel Sinks
Stainless steel sinks are critical for numerous reasons, including but not limited to: food preparation, dishwashing, and employee hand washing. NSF approved stainless steel kitchen sinks, like the three compartment sink, are very important to your everyday operations since this is where dirty dishes end and clean dishes begin. Wall mounted hand sinks in strategic locations will encourage your staff to keep their hands washed, thus cutting back on the spread of germs and bacteria.
3. Deep Fryers
I don't think I've ever been in a commercial kitchen that wasn't equipped with one or two commercial fryers. While fried food may not be the healthiest alternative, we all love it and it's hard to operate a restaurant without a few deep fried goodies on the menu. From french fries to fried green tomatoes, many side dishes and appetizers are fried and a quality deep fryer is one piece of restaurant equipment you won't be able to go without.
4. Griddle
For short order restaurants and anyone planning to serve breakfast, a griddle is a must. Griddles are used to cook everything from hamburgers to scrambled eggs, with many uses in between. The commercial griddle is a fairly simple piece of equipment but has more uses than does anything. It may not fit your kitchen plan but most restaurants have at least a small section of their kitchen set aside for this useful piece of restaurant equipment.
5. Convection Oven
Convection ovens come in very handy in most every type of restaurant, from baking biscuits for breakfast or roast beef for dinner, a convection oven is the way to go. You can get by with a standard (conventional) oven but the convection oven cooks more evenly and slightly faster, saving you time and energy.
6. Prep Tables
Prep tables are also found in the kitchen of most restaurants to help ease the transition from grill to table. The prep table gives you a place to keep all your toppings and ingredients fresh, close at hand and ready to use.
7. Commercial Dishwasher
Commercial dishwashers help ease the strain of washing all your dishes by hand. They come in a variety of sizes to fit any size outfit, from small under-counter dishwashers to the larger conveyor dishwashers, there is a commercial dishwasher right for you. I would recommend a high temperature sanitizing commercial dishwasher but there are chemical sanitizing commercial dishwashers to pick from as well.
At Performance Service & Electrical, we are here to help you build and expand the quality commercial kitchen you need for your business, organization, or even home. Maintenance & repairs? Our Nashville Appliance Repair Company is just a phone call away. Call our knowledgeable team at Performance Service & Electrical today at 615-319-0511. We've got what you need to succeed - and fast!
If you are looking for Commercial Restaurant Kitchen Appliances in Nashville then please call 615-319-0511 or complete our online request form.